Shop – Prints Info
ALL SHIPPING TIMES WILL BE EXTENDED AND CANNOT BE GUARANTEED DURING COVID-19.  Please know we will have your order produced and shipped as soon as possible


Pardon our dust ….. We are rebuilding the shop.


Art Prints and Giclee Prints are Here! – If there is a print of artwork that you are interested in please call 1-888-98Elleh
Print Prices are dependant on size and paper type and limited editions.
Papers Available
Gloss Inkjet
Lustre Inkjet
Somerset Velvet Giclee
Canvas Giclee
Deep Matt Giclee
** Most print size will include either a 1/2″ or 1″ boarder suitable for matting and framing **
     ** Thank you for your understanding – Due to Covid 19 conditions we cannot quarantee a delivery time. We will mail all prints with a tracking number. Under normal conditions; Estimated Delivery time is approx. 7 to 10 days from date of order. Thank you for your patience and understanding. **
** Most prints come UN-MATTED – due to the fact that when framing the art print you can choose a matt that compliments the print, frame and room decor **
*** Most prints will be printed on demand.
*** Prices in the chart below are for the print only. Taxes, Shipping and handleing charges will be added. They are dependant on size number of prints ordered and location of shipment. Please fell free to contact for shipping costs.
Call for Availability and Pricing
1-888-98Elleh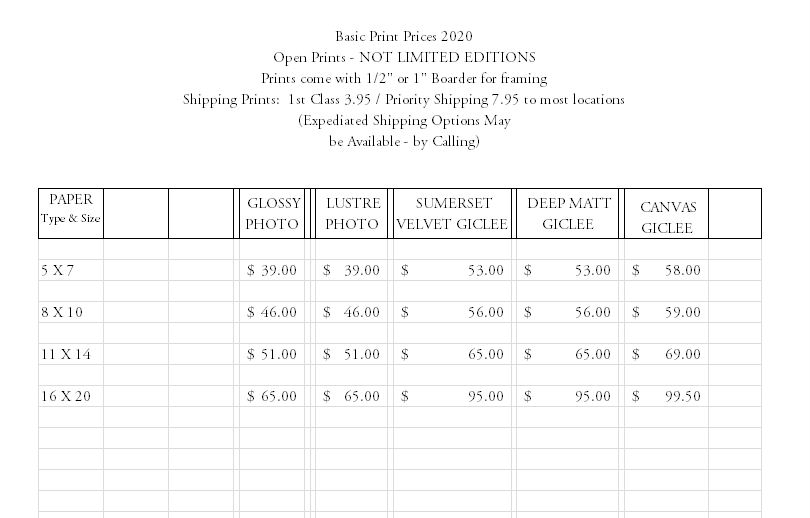 Photo Inkjet Prints
Inkjet Prints are made using genuine Noritsu paper and ink on our Noritsu Green II. Epson papers and Epson Ultrachrome HDR inks are used.
Giclee Fine Art Prints
Giclee Fine Art . Lexjet Matte, Somerset Velvet, and Lexjet Sunset Select Matte Canvas to produce Giclee Fine Art Prints on Epson printers.