Art And Canvas Party/Event Info
Elleh®
1-888-98Elleh  /  1-618-980-4595
Email:  Elleh@ArtofElleh.com
NOW BOOKING – Private Art Lessons for Adults or Kids – Home Schooled Children are Welcome – Family Discounts Available Along with Groups 
Private Classes, Events, Team Building Classes, Couples Classes "Date – Night" & In Home Parties
Parties can be scheduled in the Northwest Indiana (NWI), Chicago,  St.Louis & Metro East Area
HOME CANVAS PAINTING PARTIES, ART PARTIES & EVENTS
*Class and Event Pricing is Subject to Change, Please Call with Any Questions.
ART AND CANVAS PARTIES & EVENTS
 Along with public events/parties. I can also teach Home Art and Canvas Parties/Events, along with Corporate or Fundraising Canvas Painting Parties & Events. I can specialize art projects to your group or outing. I supply all of the art supplies necessary for the canvas painting party/event or art project. I can also bring the classes or events to your location. And you can enjoy a fun creative evening with your friends, family, or co-workers. Contact me and we can design a project specific to your group or event.  Cost of most painting parties are $35.00 per person.  Class sizes may be limited by the type of project.  
PRIVATE ART PARTIES/EVENTS –  There is a 10 seat minimum an upper limit will depend on the event and project.  Private Home Art Parties and Events; the 10 seat minimum must be paid at the time of booking.  Event/Party seats are transferable but not refundable.  See Full Cancellation Policy Below.
 CUPCAKES & SPLATTERS – CHILDREN'S BIRTHDAY PARTIES/EVENTS  – Birthday Painting Parties/Events for children.  The children attending will all be able to paint a canvas at your child's birthday party.  I will bring in all the art supplies to complete a painted canvas or other art project designed for the party.  The cost of the party depends largely on the art project picked.  (A basic canvas party is $250 for 10 children $12 for each additional child.)  One half of the class fee is do at the time of booking and is non refundable.  This fee is the class set up fee and goes to cover the administrative costs to set up your class and book the date.  The balance is due the day of the event.
I have experience teaching in a vast area of media.  I can teach areas of painting, glass painting, beading, jewelry making, basket weaving, glass work, leather craft, paper crafts, floral arrangements and more and each class can be taught at Home Event/Parties, Wine N Canvas Parties,  Coffee and Canvas Parties, Corporate Events, Church Events, Scouting Events, Corporate or Union Picnics, Bridal or Baby Showers. Parties/events can be Adults only, Child only or Adult & Child Combined. The parties/events can also be  theme based, Holiday, Easter, Christian, Couples etc. The events can also be private or public based.
Contact me to book an art and canvas party or event. Or for more information about hosting an Art and Canvas Event or the classes starting at Hobby Lobby, Valparaiso, and also Valparaiso Public Library,  please call: 1-888-98Elleh.   Click here to view sampling
NEW POLICIES for 2017  – All Private Home Events/Parties – 10 Seat Minimum MUST Be Prepaid at time of Booking.  – Class seats for both public and private events/parties are transferable but not refundable – no exceptions.  Consider these tickets are just like a  sporting/music event, you can give them to a friend, but they are not refundable.  
For a private event, once I book your time slot I am unable to book another party in that time slot.   If a class is canceled more than 30 days before the event, a refund will be given minus the class set up fee, this gives me adequate time to re-book your time slot.   The class set up fee portion is not refunded because it covers the administrative and artist time to set up your event/class.   If less then 30 days there is no refund, due to the issue that once your event is booked administration and artist time are used for the set up and preparation for your event and your time slot cannot be adequately set up and re – booked in under 30 days.  
If for any reason Elleh has to cancel your event/class a full refund of all monies collected will be given.
*** If you have any questions
regarding class set up or our cancellation policy, Please Call  1-888-98Elleh***
*** Class Set Up Fees are applied when an party or event is booked and then canceled.  This fee applies because supplies, administrative time and artist time are to be covered for the set up, planning and purchases for your party or event.  If this fee is not collected at time of booking and a cancellation occurs this fee will be either charged to your credit/debit card on file or it will be billed and payable at cancellation.
Setup Fee: Art & Canvas with Elleh charges a minimum Setup Fee of $105.00 and up depending on the class/event project.  A standard set up fee for a basic canvas class is $105.00.  Custom classes will have a set up equal to the time and supplies needed to create and set up your custom class.
If the full event fee is not collected at the time of booking; we will provide a coupon that is equal to the set up-fee, which can then be used to purchase tickets for a standard event.
In effect, we are not charging anything extra for the event set up fee, but do require a processing/set up fee to cover administration costs, artist time and prototype supplies. This fee is usually included in the total event ticket fee, unless otherwise stated.
There are NO REFUNDS for Setup Fees, after booking your event; as the work will already have been completed by our administration and artist staff.  (There is a 3 day grace period from the date of booking to cancel the full event with full a refund.  After 3 days of booking your event the event set up fee is charged in full.)
Public Class/Event seat tickets are transferable to another person for the event, but they are not refundable.  (Much like music or sporting events the tickets are transferable but not refundable.)
CANCELLATION & RESCHEDULING POLICIES:  Despite the best intentions and most organized of plans, we understand that unforeseen events can arise, so please let us know immediately!  There is a 3 day grace period from the date you book the event to receive a full refund after 3 days the event set up fee is inforced.  You may also opt to reschedule your Private Party with at least 3o days advance notice at no charge, repeated rescheduling is not allowed do to the fact that each time your event is booked and placed on our calendar that time slot is closed to other clients wanting to book events.  If your event is repeatedly moved it blocks open time slots for booking.     If you choose to cancel your event or if the cancellation comes under 30 days notice the cancellation policy** will be in effect.
**Should you need to cancel your event after the 3 day grace period, your Setup Fee will be forfeit once your event has been set up and  booked, if the cancellation comes with at least a 30 day advance notice the amount paid over the class set up fee will be refunded. Once booked after 3 day grace period,  the class set up fee is never refunded; because, when your time slot is booked the administrative and artist time are started to set prepare and plan your event that time bracket is also removed from our calendar making it unable to be booked.  There are no exceptions and no refunds for Setup Fees!  If the cancellation comes 30 days or less the full event/class fee is forfeited.  Because with under 30 days your event/class time cannot be re-booked.
If you have any questions about the class set up fee or cancellation policy please call
1-888-98Elleh
* If necessary – Artist time for Party & Event Canvas Creations is billed at $45.00 per hour. As of October 1, 2016.
* Returned Check fee NSF checks is $35.00
*  Credit Card payments incur and additional processing fee of up to 2.9% plus .30 cents per occurrence.
NEW:  Private Art Lessons – These can be taught at your location. / For Children or Adults
* Art Lessons: Including but not limited to:   Acrylic, Oil or Watercolor Painting, Leather Work, Beading Work, Jewelry Making, Hand Stitching, Embrodery, Cross Stitch, Crochet and more.  Please call if a media you are interested in is not listed.   Private Lessons are $35.00 per hour. (Lesson Supply Lists will be given to each student)
********
Class and Event Pricing is Subject to Change, Please Call with Any Questions.
    ********   
         Art and Canvas for Kids:  "Cupcakes and Splatters" –  Children's Birthday Parties & Events :  To Book a Party/Event Call   1-888-98Elleh
   Mommie & Me Classes – a class of adults painting with their  children :  To Book a Event/Party Call    1-888-98Elleh
Couples Classes "Date – Night" Party/Event:  To Book a Party Call  1-888-98Elleh
  ********  
I am currently only teaching private events.   No public classes are slated at this time.
Elleh®.
Email:  Elleh@ArtofElleh.com
1-888-98Elleh
(1-888-983-5534)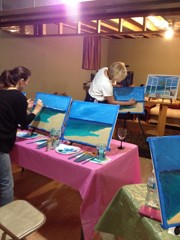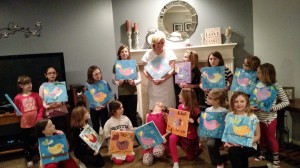 © Elleh®          All Rights Reserved           Elleh,llc